Soccer fans know how incredible Leicester City's 15/16 Premier League was. Non-soccer fans however may not understand how large of an underdog Leicester was entering the season. To provide more context on their championship season, look at the chart below which shows how the five bottom teams (exluding relegated teams) performed the following season.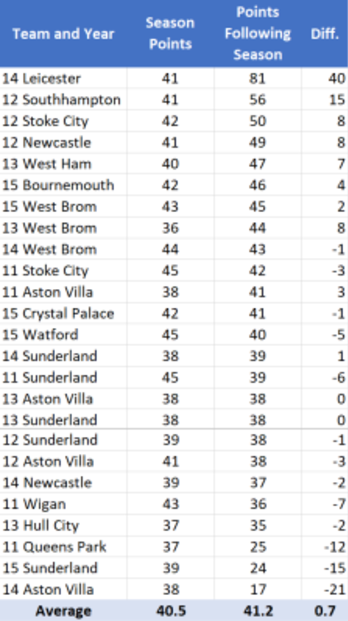 Chart shows how the 3-17th place finishers from 2011-2015 seasons performed the following season.
As seen in the chart, Leicester finished the 2014-2015 season with 41 points which is about average for a team that finishes 13-17th in the Premier League. Out of 25 teams that placed just above relegation between 2011 and 2015, the team then averaged only 41.2 points the next season. The best season after coming in bottom half of the table before Leicester was Southampton in 2013 who had 56 points after just having 41 the previous season.
The next season, Leicester won the Premier League with 81 points which was 40 points better than their previous season. They were such large underdogs because as this table shows, teams that place towards the bottom of the table fail to improve much the next season, let alone win the league.
Will a bottom-half of the league team win the Premier League again? Probably, but it won't happen this year as Burnley, who placed 16th last season, are only on pace for 52 points this year and are already mathematically eliminated from winning the title.